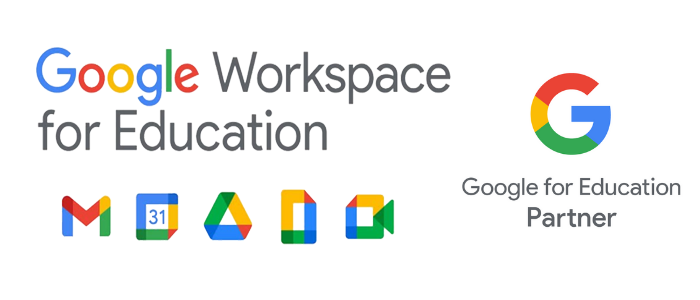 Choose the edition that's right for your institution
Use flexible, secure tools for free with Education Fundamentals, or add the enhanced capabilities you need with Education Standard, the Teaching and Learning Upgrade, or Education Plus.
Google Workspace for Education Fundamentals
Bring your school community together with a free suite of tools that enable better communication and collaboration.
Includes essential education tools and features like:
 Collaboration tools including Classroom, Docs, Sheets, Slides, Forms, and more
 Communication tools including Google Meet, Gmail, and Chat
 Data loss prevention for Gmail and Drive
 Can be used in compliance with FERPA, COPPA and GDPR
Google Workspace for Education Standard
Level up with advanced security, analytics, and controls to safeguard against evolving digital threats.
Includes everything in Education Fundamentals, as well as:
 Security center to proactively prevent, detect, and remediate threats
 Advanced device and app management to perform audits and enforce security and app access rules
 Gmail log and Classroom log export for insights and analysis in BigQuery
Teaching and Learning Upgrade
Enhance instructional impact with advanced video communication, enriched class experiences, and tools to drive academic integrity.
Includes everything in Education Fundamentals, as well as:
 Meetings with up to 250 participants and live streams with up to 10,000 in-domain viewers using Google Meet
 Premium engagement features in Google Meet including interactive Q&As, polls, breakout rooms, and more
 Classroom add-ons to directly integrate your favorite tools and content
 Unlimited originality reports and the ability to check for peer matches across a private repository of past student work
Google Workspace for Education Plus
Transform your school with a comprehensive solution incorporating advanced security and analytics, enhanced teaching and learning tools, and more.
Includes everything in Education Standard and the Teaching and Learning Upgrade, as well as:
 Live streams with up to 100,000 in-domain viewers using Google Meet
 Sync rosters directly to Classroom from any Student Information System
 Personalized Cloud Search for your domain to make information accessible and easy to find
 Faster response times from a support team of product specialists