Google's ultra-reliable servers guarantee 99.9% uptime on your business email. Industry-leading spam filters keep junk out of your inbox.
Keep all your work in one secure place with cloud storage. Access and share with teammates, from your computer, phone, or tablet.
Collaborate on documents, spreadsheets, and presentations across devices. Real-time co-editing helps you get to the final version faster.
Keep all your company data safe and protected even in the event of lost or stolen devices and employee turnover.
Set up new team members in minutes. Google Workspace stays up to date automatically, so you won't have to worry about updates or security patches.
Easily open and edit file formats like MS® Word, Excel, and Powerpoint. You can also export and share files with people who don't use Google Workspace.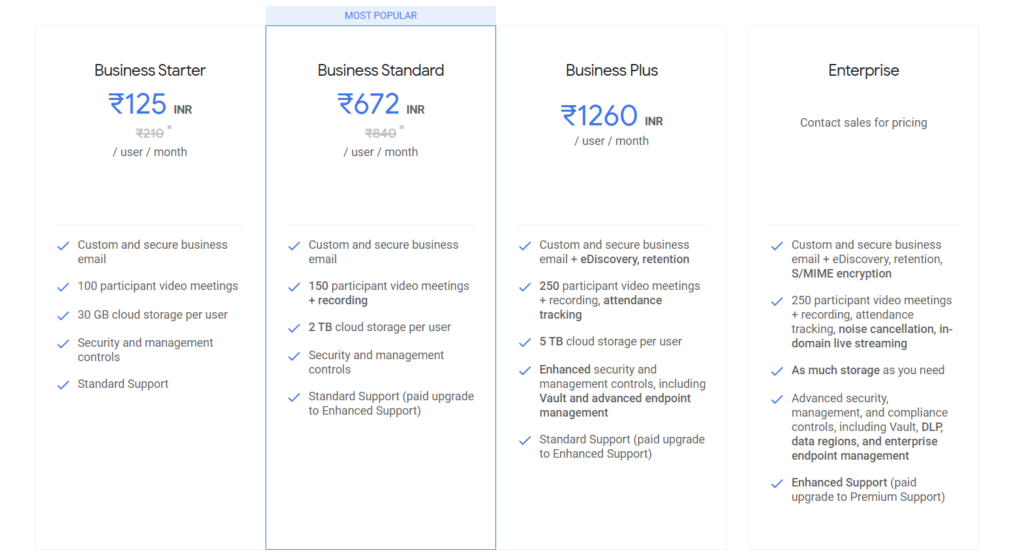 Business Starter, Business Standard, and Business Plus plans can be purchased for a maximum of 300 users. There is no minimum or maximum user limit for Enterprise plans. Google Workspace customers may have access to additional features for a limited promotional period.
* Offer available to new Google Workspace customers only. This introductory price is only available for the first 20 users added, for 12 months. Standard pricing will apply to all users after 12 months. Customers may cancel at any time.